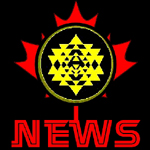 February 2001: I have been named the Eastern Canadian Representive of the Battlestar Galactica Fanclub covering Ontario, Quebec, Newfoundland, New Brunswick, Nova Scotia and Prince Edward Island. You can contact me (Kelly Stewart) at cangalactica@hotmail.com for more info.
"Boxing Day" 2000: Space is showing a six hour marathon of the fans favorite episodes. Episodes shown: 'Saga of a Star World' (pt 1,2,3), 'The Return of Starbuck' & 'The Living Legend' (pt 1&2).
Fall 2000: Check out the new Radio Shack ads with Teri Hatcher. If you check out the TV's in the background, they have Battlestar Galactica playing on the TV.
"Space" has a new battlestar galactica page.
Summer 2000: Revival efforts continue...The Sc-Fi network has expressed an interest in starting a new BG series for the network. Universal studios continues to drag their feet on a commitment to anything to do with BG. Meanwhile the original series plays on "Space" up here to great success.
a Canadian stormtrooper shows its support!
March 7th 2000: Canadian actor John Colicos died to today in Toronto at age 71. Best know for playing "Baltar" on Battlestar Galactica and the first Klingon on the original Star Trek series.
February 2000: Space is now showing Battlestar Galactica regularly Saturday's at 6pm (EST) repeat is the next morning at 9am (EST). They are advertising it as "See how the future will look like the seventies!".
January 2000: We won!!! Space: The Imagination Station (Canada's sc-fi network) will finally air something from the Battlestar Galactica universe. It will air Saturday January 8 at 6 PM ET (repeated Sunday January 9 at 9 AM ET.) They are promoting the event as a "mystery series" and not saying what it is exactly .
Fall 1999:
- Glen Larson's BG movie project has been put on hold (likely for good) but he has expressed interest in doing an IMAX film for BG. (We'll see)
Summer 1999:
-battlestargalactica.com is now launched!
Get your latest info and read interviews with people involved with BG:Second Coming
May/June 1999:
-Richard Hatch's newsletter for June/July is now posted.
-Star Wars opens to big numbers which can't but help the Galactica cause! (May 19/99)
April 1999:
-"Third stage" of letter writing campaign has begun for the (Richard Hatch) Battlestar Galactica revival. This is when fans are to write to these addresses, a letter a week until the revival is successful. (April 13/99)
-Richard Hatch responses further info about his feelings about the BG movie project to mr.showbiz.com (April 5/99)
- Battlestar Galactica movie website is launched.(April 1/99)
March 1999:
-A press release was put out in response to the Glen Larson movie news from Richard Hatch/Su Shane Productions on March 16/99. Read it here.
- Battlestar Galactica movie as posted March 11/99
on mrshowbiz.go.com:
If you've been impatiently counting the centons between reruns of
Battlestar Galactica on the Sci-Fi Channel, you'll likely be pleased to
learn that series creator Glen A. Larson is in final talks to ramp up a
$40 million independent production that will revive the concept for the
big screen.
According to a report in Variety, Larson and producer Todd Moyer
(who recently shepherded Wing Commander through a similar
independently financed shoot before it was snared for distribution by
20th Century Fox) will begin lensing a Battlestar Galactica movie in
September. The shoot will take place in tiny Luxembourg, presumably
as a means of cutting costs.
Many yahrens ago, the series — which chronicled the woes of a
nomadic, "ragtag fleet" of humans pursued across the cosmos by the
despotic, imperial Cylons — enjoyed a brief, 21-episode run on ABC
during the 1978-79 television season. Though victimized by low ratings
during its initial run, the show spawned a devoted cult following whose
ranks swelled immeasurably after the cable-based Sci-Fi Channel
began reairing it.
Many novels (including one penned by actor Richard Hatch, who
played hunky Apollo on the show), comic books, and a
mind-bogglingly large number of Web sites later, Larson and Moyer are
confident the world is ready for Galactica to conquer the box office.
As Moyer sees it, "Battlestar Galactica has an illustrious history, a huge
fan base, and enormous potential to be a successful motion picture."
The script for the movie — to be penned by Mike Finch, who
reportedly produced several drafts of the script for Wing Commander
— will take up where the series ended and focus on the character of
Commander Cain. No roles have been cast as of yet, but it seems likely
at least a few of the old series regulars will turn up in cameo or
supporting roles.
Visual effects for the film will likely be handled by Moyer's own
company, No Prisoners 3DFX. Larson, who claims to have been
approached a number of times over the years by producers hoping to
hatch Galactica movie projects, reportedly became interested in teaming
up with Moyer after seeing his FX works on Wing Commander, which
arrives in theaters this Friday.
Winter 1999:
-"Battlestar Galactica: 2nd Coming" is being wrapped up but will not be available for fans to see but their is a "making of" that will be available at conventions this summer. (Most likely be in Canada at "Toronto Trek" this summer.) The film is approx 4 minutes long and will be available to film producers only.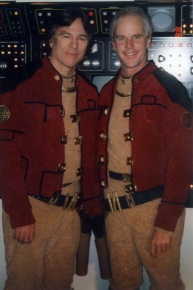 Hatch and Stauffer on the set of "BG: 2nd coming"
-Universal has plans to release "Battlestar Galactica" (the 2hr feature) on DVD, May 11th/99.
Fall 98:
-a trailer for "Battlestar Galactica: 2nd coming" was shot. This was done as an "audition" tape for studio executives to get a better idea of what the new series would be like. This I believe is the first real sign of Universal taking the revival seriously.
-"Warhawk" Book 2( in a series of 3) by Richard Hatch is released bringing up to speed the Galactica universe 20 years.
-20 YAHREN REUNION was held in LA on Sept 4, 5 & 6th to great success.
---
The rest is felgercarb!